This England team keeps surprising us, and now they have surprised their way through to a World Cup semi-final. After keeping their cool in the chaos of Tuesday night, today they produced a performance that utterly disguised the nature of the occasion and the stakes. This was a World Cup quarter-final, against a difficult Sweden side, who finished top of a tight, competitive Group F. Stronger England sides have choked in gentler situations than this.
But here in Samara, England won with a nerveless confidence and ease. The 2-0 scoreline should have been more but if fans at home were anxious that the margin was not bigger, the players never looked that way. They had an assured ease in the second half that felt barely believable.
There was none of the sickening tension, the freak errors, the fear, the controversy, the calamity, the crisis, the stretched-out three-hour drama that always characterises England in these huge games. It was just so unrecognisable with English football history, so at odds with English football expectations. But then that has always been Gareth Southgate's point.
The last time England won a World Cup quarter-final was against Cameroon in Naples on 1 July 1990. Since then they have lost two of them. In one sense that enhances this achievement, because to get this far in a World Cup is so rare for any England side. But in another sense it is completely irrelevant. Only three of these players, Kyle Walker, Ashley Young and Jordan Henderson were even alive that day. It matters far more to the public than to the players what happened before. Southgate has told them to write their own stories and they are doing exactly that.
Because this was the most complete, most professional performance England have put in all World Cup. There were none of the nerves of the last-gasp Tunisia win or the fear of the Colombia game. From a tension perspective, it had more in common with beating Panama 6-1 in Nizhny Novgorod, even if that might sound insulting to a hard-working but ultimately rigid Sweden side.
England did have to work hard to get ahead, and it was not pretty in the first half-hour before the goal. But once they did so they were always in complete control, and started to attack with the fluency that had been promised all tournament but never quite arrived. Once Dele Alli nodded in a clever header the game was up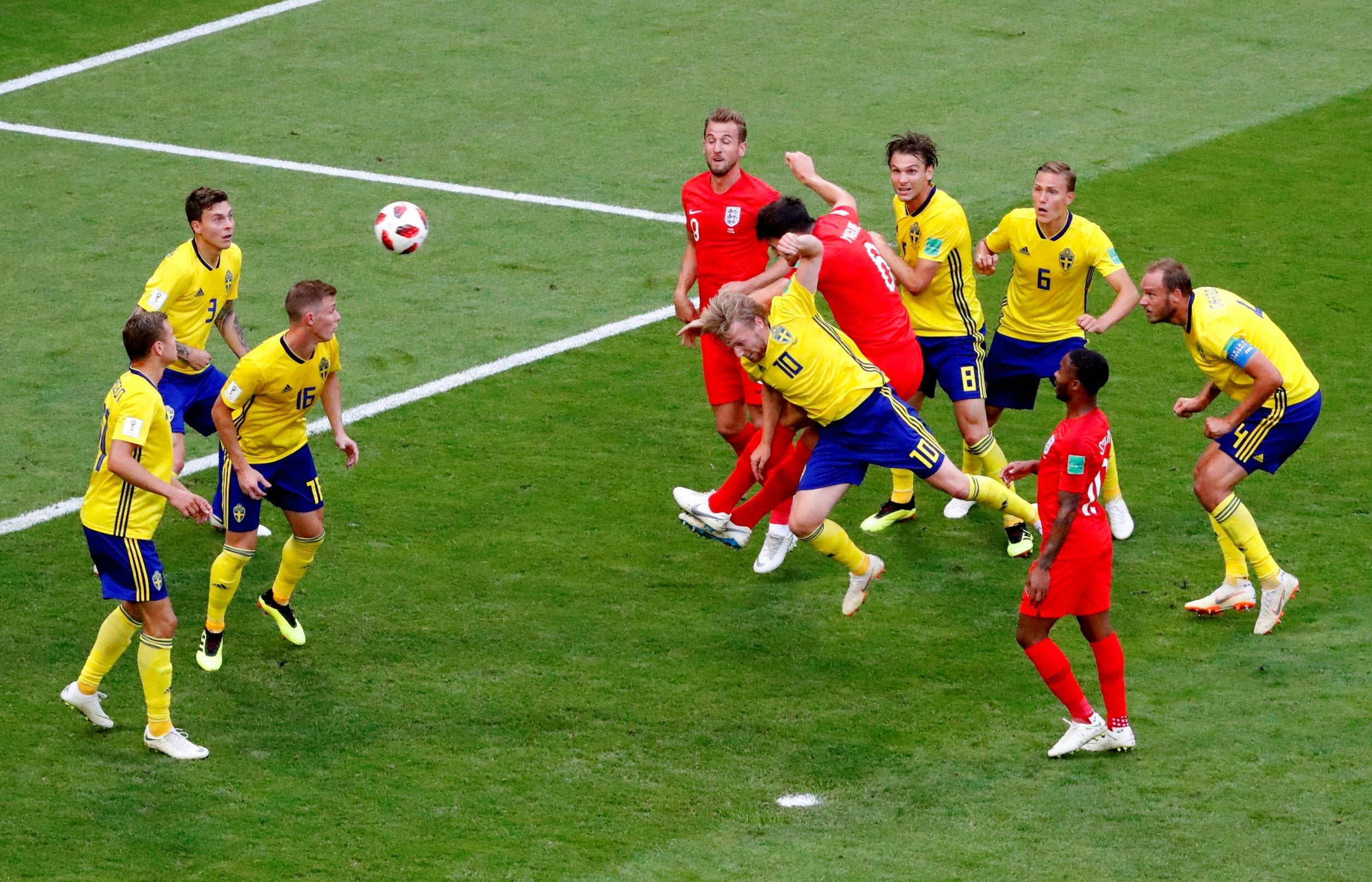 And for all the criticisms of England in not creating enough in open play, this afternoon showed that this team is still improving, improving at exactly the right time. They could and should have scored more, especially in the second half when Raheem Sterling and Jesse Lingard started to find space.
Even more gratifyingly than that, and in a further sign of their steady improvement, they recorded their first clean sheet of the World Cup, thanks to more solid defence from their ever-improving back three and three second-half saves, one of them very good indeed, from Jordan Pickford. And all this against a Sweden team who had made fools of Mexico, Switzerland and South Korea, and should have done the same to Germany too.
Yes, the first 20 minutes were poor. England began as if weighed down by the exertions of Tuesday night, having to get their heads around the way Sweden defend. The ball spent too much time in the air, every other touch was a tackle, and anxious England players mishit no-pressure passes straight out of play.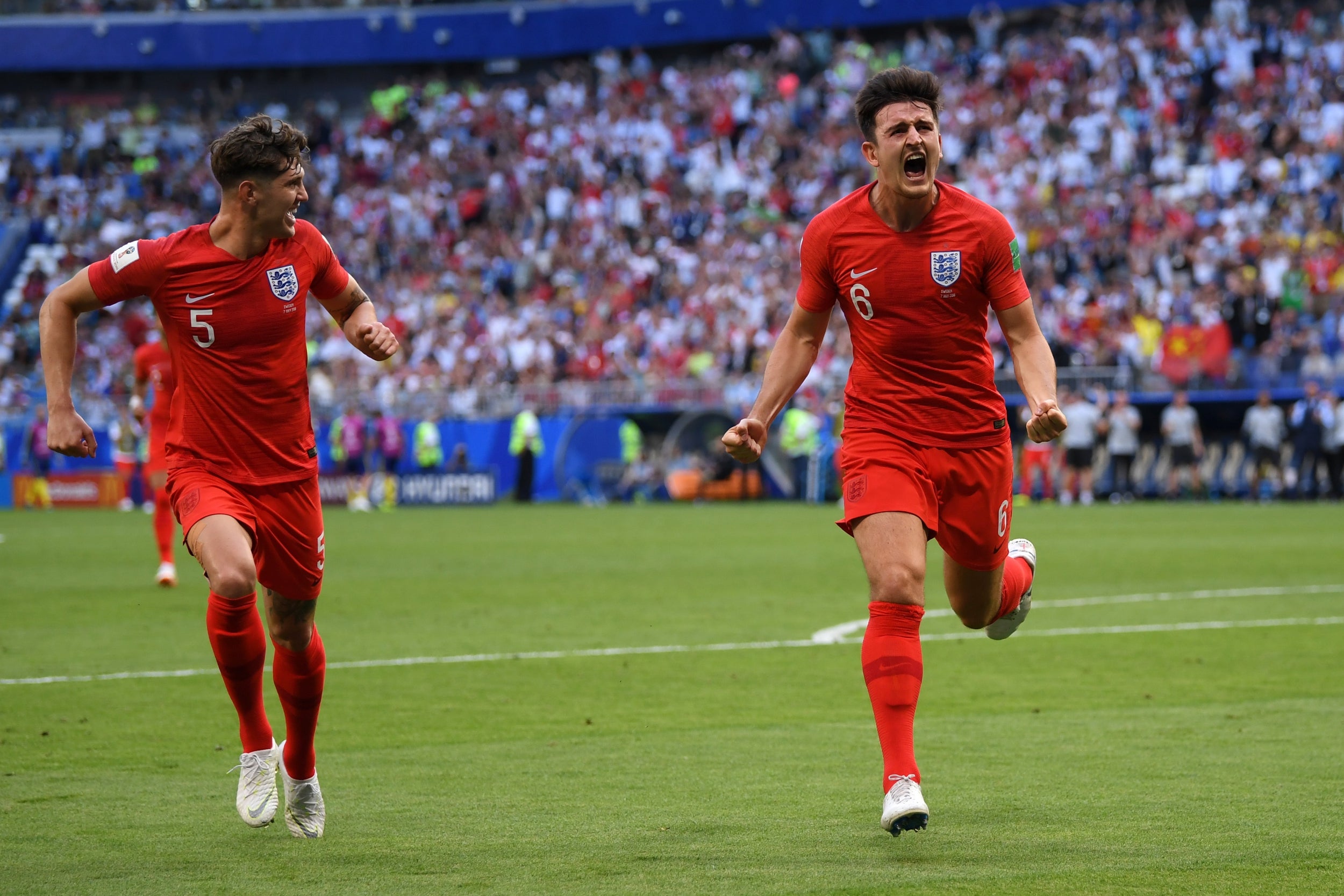 But this England team doesn't need too much to grab hold of a game. Just one corner kick will do. Having done nothing all match, they finally found Kieran Trippier in space down the right, and he forced a corner, their first of the match. And that was all it took.
England did not even need Trippier to take it. Ashley Young drove the ball hard and flat towards the penalty area where it met a mid-air Maguire. He flattened Forsberg with his left shoulder and sent the ball flying between Robin Olsen and Ola Toivonen and in.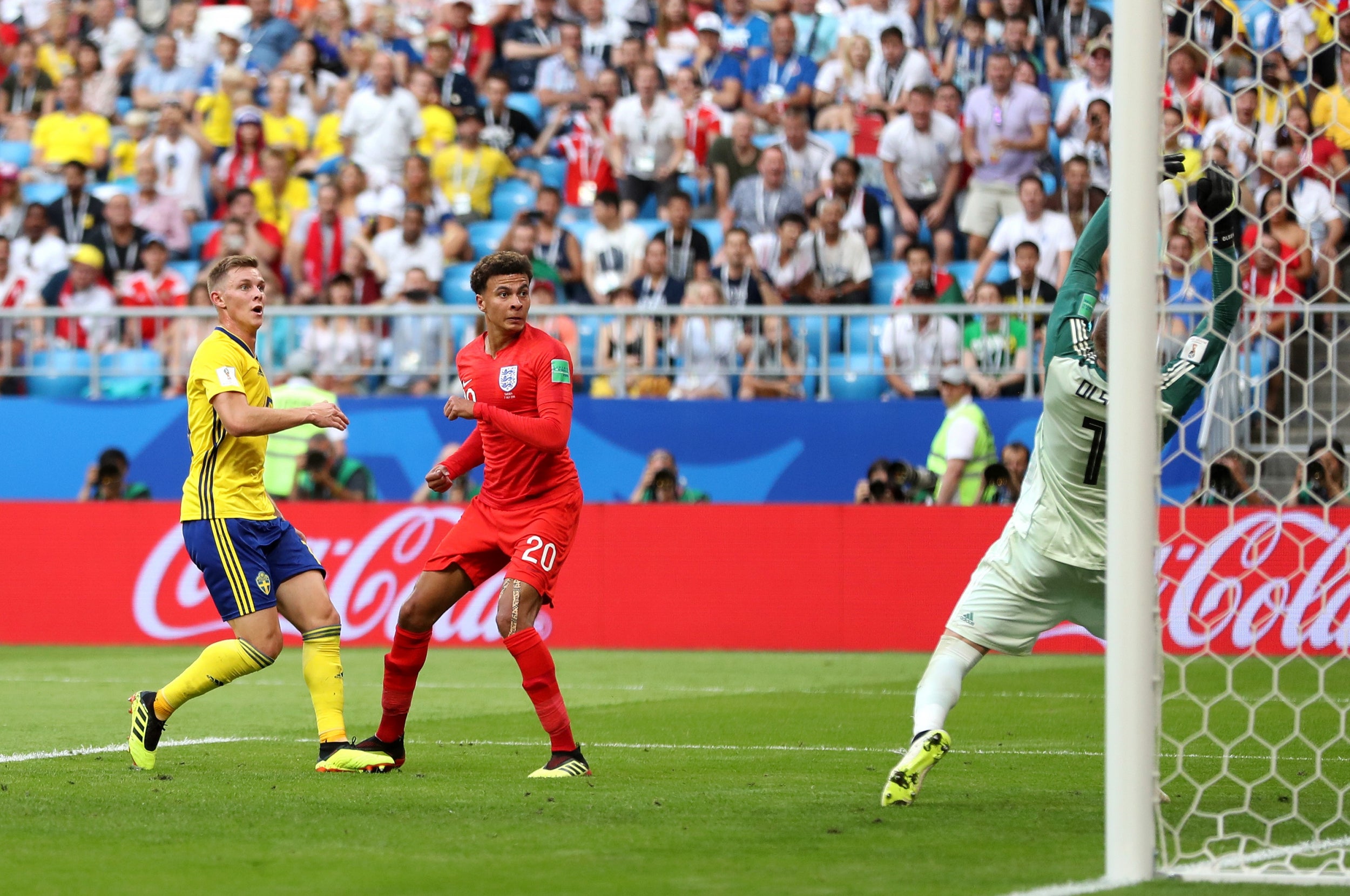 That is all it takes, and England never looked back. Once England had the lead, they started to play. Sterling's runs in behind were sharper than they have been all tournament. First put through by Jesse Lingard, he was just offside. Then played in by Henderson, he was blocked off by the quick-thinking Olsen. That move started with Pickford's pass and Trippier's first-time chest to Alli. They would never have dared that in the anxious opening.
Sweden needed half-time, but the break could not save them. Six minutes after the re-start, England hit them again. Trippier found Lingard in space just outside the box and he chipped over a cross to the far post. Dele Alli arrived there, to Emil Krafth's surprise and nodded the ball straight through Olsen and in. It was exactly the type of far-post run and header Alli makes at his best, a move with which he has done so much damage for Tottenham over the years. In a World Cup in which he has looked constrained, playing within himself, it was a reminder of the thrilling power of Alli unshackled.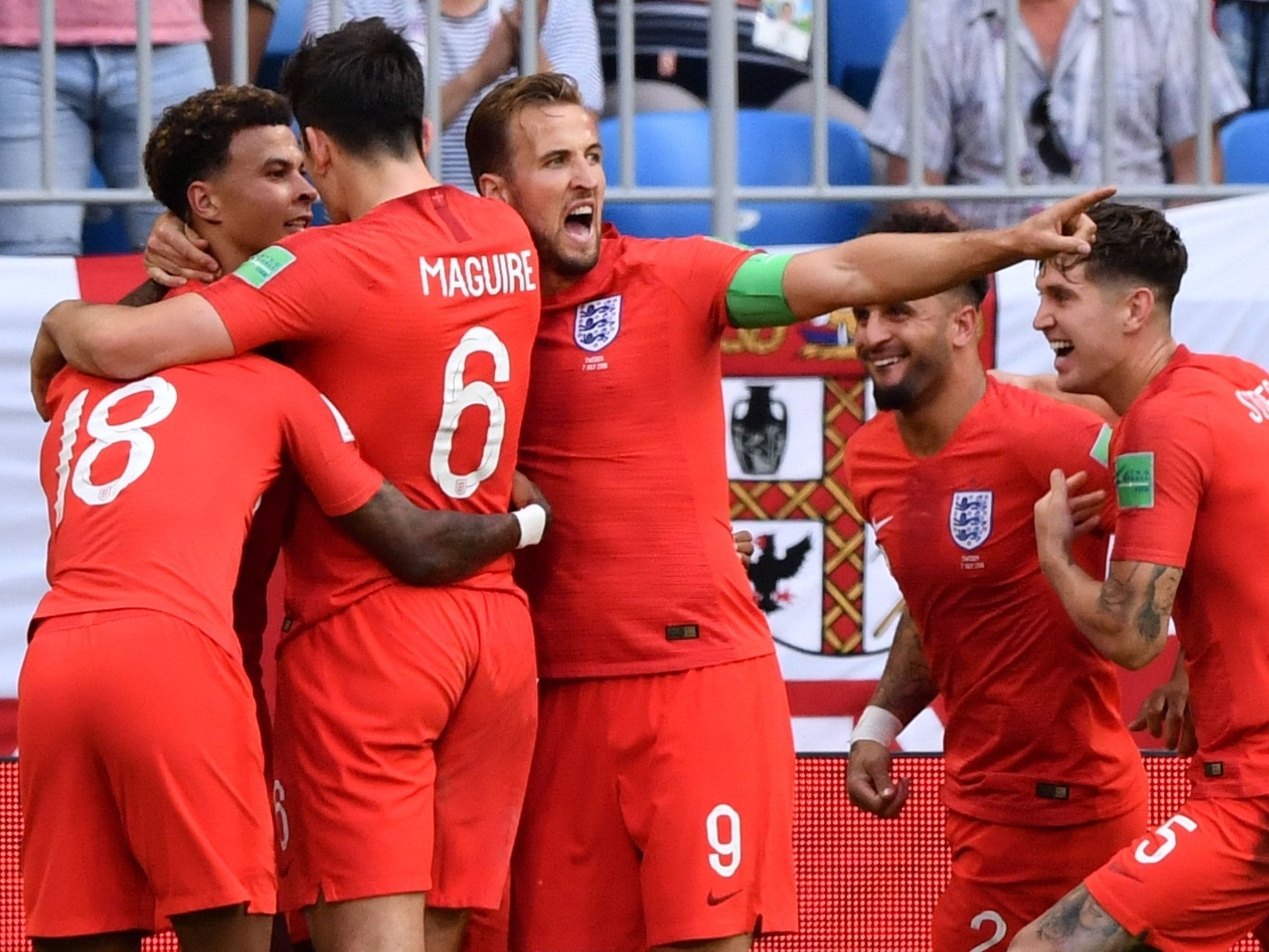 From there England were in a position they may barely have dreamed of: 2-0 up in a World Cup quarter-final. Sweden, having offered nothing in the first half, started to throw more men forward. What else are you going to do when you're about to go out of a World Cup? But England held them off. Maguire and Stones won almost every tackle, and when they did not, Pickford was there with three crucial second-half saves.
First down to his left from Berg's far-post header. Then, brilliantly, low down to his right, his weaker side, after Berg had set up Viktor Claesson in the box. Then tipping over from Berg from close range. Maybe none quite as spectacular or important as those from Mateus Uribe and Carlos Bacca in Moscow on Tuesday. But enough to earn Pickford's first clean sheet, and in a quarter-final at that.
From there it was jarringly simple as England saw out the win, made three changes and avoided any of the tensions you usually see at this stage of the competition. Those nervy first 20 minutes felt utterly irrelevant as England patiently passed their way into the semi-finals.