The teenagers
"If I wasn't here, I'd be walking around or sitting in the house," says Mia, 13, "boring."
"Yeah, really boring," says Abi, 14, "I would just be on my phone."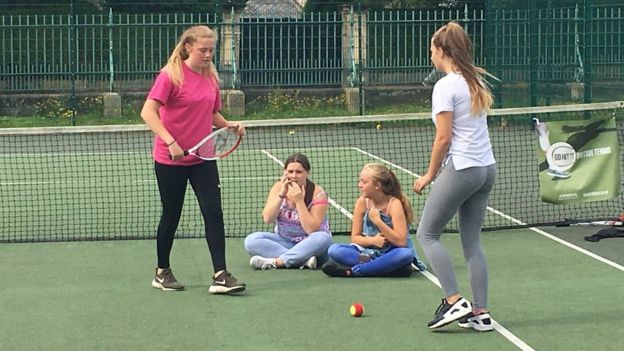 "They take us on loads of nice trips," says Abi.
"We're going to Alton Towers next week and we're going camping. I reckon camping will be good because it's an overnight."
The project, Fit and Fed, run by Wirral council's sports development team and charities Feeding Birkenhead and Street Games, with some of the government's cash, also provides breakfast and a packed lunch every weekday to every child who turns up.
"It's nice food," says Abi, "and when we go on trips, we get hot food."
Harry, 13, says if he wasn't there, he might go to the shops with his dad.
But being at the holiday club is far better. "They make it so exciting. There's football, dodgeball. I am loving it, every bit, and I am getting better."
Summer, 12, is another keen footballer.
"I like learning new things and doing challenging things," she says.
"I live down there," she says, pointing towards streets near the River Mersey.
"There's really nothing to do."
The youth worker
It really important the sessions are free and open to everyone, rich and poor, says Josh Parker, a youth worker with the teenagers in the park.
It's a matter of dignity, he says.
"There might be children that come on our trips that come from a really terrible background and their parents don't have the money to feed them – and there's kids at the other end of the scale.
"But if we just made it that it was kids that were suffering could use the service, anyone who saw them using it would know for a fact, straightaway, that that's the reason they're there and that's not very fair.
"The free food – it seems like a bit of an added extra to some people… but it really is important because we have families that genuinely can't send anything for their kids and they've got to come out and get that food from us. And giving it to everyone, again it makes it dignified. Everyone's eating the exact same food, regardless of your background."
"It's about eliminating that line that says, 'You're in poverty, you're not in poverty.'
"It just saves that kid from going through a lot of torment."
The mums
Natalie has brought her children, Oliver, one, Katelyn, six, and stepson Jason, 10, to a holiday session at Birkenhead's St James centre.
There's table football, crafts, lots of noise and fun – and a free breakfast and lunch.
Natalie, a part-time NHS clinical support worker, and her husband, who also works, are not eligible for benefits but struggle on their limited earnings.
Financially, she says, "the six weeks' holidays are terrible".
It's tough to find cash for the extra food they need when the older ones are not getting their free school meals.
"Food would be the first thing I'd buy but then I'd struggle with the bills."
The food on offer at the centre really helps financially and "the kids eat better when they socialise".
Hayley, there with her children, Jamie, five, and Amy, one, says she'd be lost without St James and the packed lunch available every weekday for Jamie.
"It's financial for us – less for us to pay.
"It's everything, the support, the library, the afterschool club.
"I'd be stuck. I wouldn't like to imagine my life without St James in it."
The volunteer cook
Dave Howard worked in the merchant navy for 45 years, producing four meals a day for crews of up to 18 on voyages that could last weeks.
"We could be going across to Trinidad and Tobago, Ghana or whatever."
He retired last November but quickly decided "I needed something to do".
Today, he and his assistant, Alan, retired from the armed forces, have produced lunch for more than 50 people, ranging from pensioners to pre-schoolers, at Beaconsfield Community House in Rock Ferry, Birkenhead.
"It can be an eye-opener but we enjoy it."
His old job meant buying supplies in far-flung lands and being versatile with ingredients.
These days, he works with food donated from major supermarkets and charities and never quite knows what he's going to get or how many he's cooking for.
"It all depends who comes in. Some days it's quiet and then another day, you can get like today, when it's just bedlam for an hour or two."
The main difference, he says, is that he had never worked with women before.
"I decided I had to bite the bullet."
"The way men talk and the way women talk, it's completely different."
Everyone's really polite, he says, particularly the older pensioners.
"You're giving something back and you get a good kick out of that."
The community campaigner
Ema Wilkes campaigns against food waste and food poverty in Birkenhead.
Neo, the organisation she founded in 2013, will this year provide 10,000 meals for hungry children in the town, made from food donated by major supermarkets and restaurant chains that would otherwise go to waste.
"The amount of fruit and vegetables that go to landfill in this country is ridiculous."
Too many families struggle financially to the extent that they can't be confident of putting food on the table every day of the year, she says.
"It's a massive issue in the area and across the country."
Neo is part of Feeding Birkenhead and runs Beaconsfield Community House.
"I want our children who may come from families who are struggling to have just as much excitement about what they've done in their school holidays as the richest child in the class.
"It's about making memories and the children hold the worry and the shame that the parents hold."
"The sad thing is that the bit of funding that is put towards holiday hunger is nothing compared to what's needed and that should be obvious when you look at the numbers of children on free school meals."
Ema estimates a family with two children must find an extra £400 to feed them over the six-week summer holiday and some low income working families "just cannot make money stretch any further".
Children and Families Minister Nadhim Zahawi says the government is maximising resources by targeting the £2m fund on "those areas in greatest need, building on the good work that is already under way in many local communities".
But Ema says her organisation is still almost overwhelmed by demand.
"We always make it work but there's only so far that the third sector can stretch a budget to do what the government or statutory services should be doing in the first place."
The Department for Education says its funding programme will help determine "the best way to ensure that the most disadvantaged children have access to activities and healthy meals in the school holidays".
"Only once the findings from the programme are available will it be possible to reach an informed view about next steps."