Hundreds of passengers were left stranded at Stansted Airport after storms caused flight delays and cancellations.
Photographs showed people sleeping on the floor and luggage carousels on Friday, and long queues remain at check-in desks.
A spokesman for the airport said it was "open and operating today". Further delays have been reported.
Passengers have been advised to check ahead because of "knock-on effects".
Many spent the night at the airport and took to social media to vent their frustration, with some calling it "an absolute disgrace", "pure chaos" and "incompetence".
Operator Ryanair said storms on Friday night meant it was "forced to cancel a number of flights".
A spokesman said: "The knock-on effect of this and ATC (air traffic control) staff shortages has caused further disruptions today (28 July) including delays and cancellations."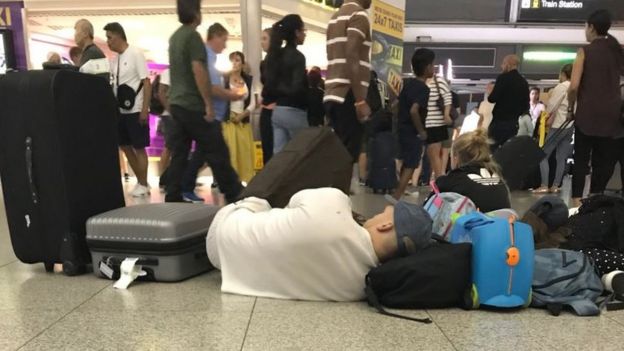 Passenger Joe Allen, who was trying to fly to Berlin with Ryanair, said he was supposed to leave at 19:00 on Friday.
Passengers had boarded the flight but "missed their slot", so were told to get off and go back to the airport, he said. The flight was later cancelled.
Stuck at #Stansted #Airport. Dozens of flights cancelled. No more info, no staff to help, zero place to stand. Reminds me of my travels through Nigeria in 1990. Pure incompetence, pure chaos. #boycottRyanAir

— Has je (@oddlyhungry) July 28, 2018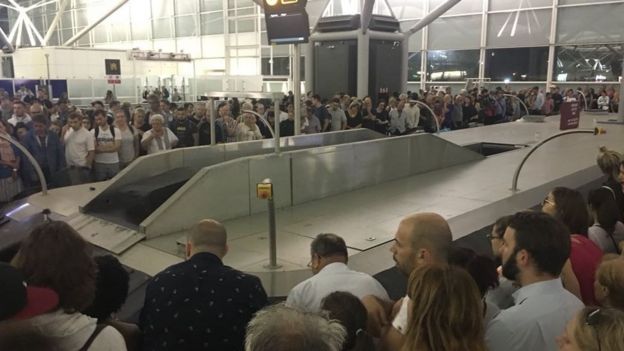 Ryanair has apologised to its customers in a statement to the BBC and said those affected by the disruption – which was "entirely beyond our control" – were being "advised of their options".
Thank you @Ryanair and #StanstedAirport for being the most disorganised and unhelpful people ever. Because of the insane backlog of people at bag drop we missed our flight and in our whole time queuing up, not one member of staff was anywhere to be seen. Disgraceful! pic.twitter.com/zgjaXuKEhC

— Aaron Barriscale (@abarr3000) July 28, 2018
Stansted Airport said: "The queues in the terminal were predominately at airline ticket desks with passengers who decided not to go home but stay and try and re-book after their flights were cancelled the previous evening.
"Those queues have gone down quite considerably and contained within the check-in areas."
Flights cancelled, poor information. Cattle market system at Stansted Airport. @STN_Airport Its 2018 not 1818. pic.twitter.com/rgprIsjsD1

— MitchEmburey (@EmbureyMitch) July 28, 2018